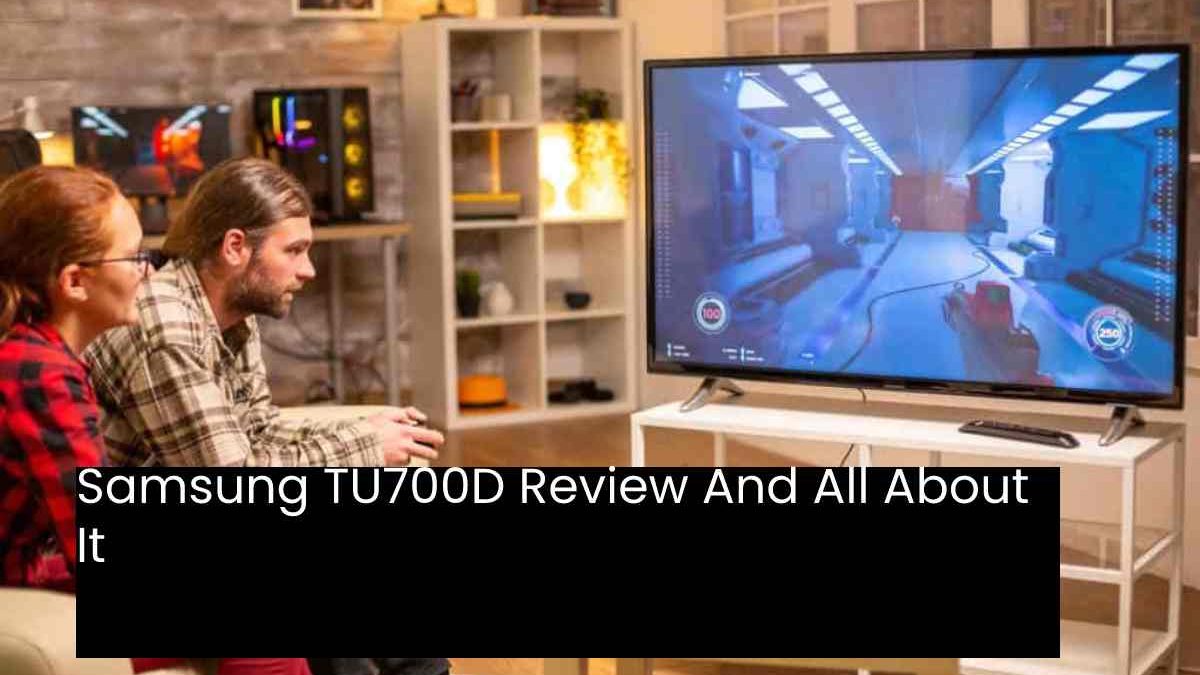 Samsung TU700D is a budget 4K smart TV with decent performance and some amazing features. Notably, this TV has a good contrast ratio, low input lag, and the awesome Tizen OS. Unfortunately, the TV offers poor viewing angles.
Pros And Cons
Pros
Good contrast ratio
Low input lag
Narrow bezels
4.HDR
5.Tizen operating system
Cons
The operating system contains annoying ads
Poor viewing angles
Few ports
Mediocre maximum brightness
In this review article, I will discuss the specifications and features of the Samsung TU700D in detail. To achieve this, I will detail the TV's design, display features, ports and connectivity features, smart features, and sound features.
Also, since this article is an in-depth performance review of the Samsung TU700D, let us learn about its advantages and disadvantages. That's not all, I'll also rate the TV on a scale of one to ten at the end of each section.
These ratings are based on performance, features, and my personal opinion of the TV. Therefore, to get enough data to make an informed purchasing decision, you should read this review in its entirety.
Samsung TU700D Review: My First Thoughts
Samsung is a domestic name when it comes to making 4K TVs with exceptional performance. That is why in 2020, to expand its collection of 4K TVs, the brand launched the Samsung TU700D.
The Samsung TU700D is an entry-level 4K TV that offers reasonable performance and some high-end features. To name a few, this TV comes with a cable management system and HDR support.
Plus, despite its long list of standout features, this TV is reasonably priced. More specifically, the Samsung TU700D was priced at $559.99 when I wrote this review article in March 2022.
Still, can this TV compete with other 4K TVs on the market? Reading this appraisal article to the end is one way to find an answer to this question.
Samsung TU700D Design, Dimensions And Weight In The Test
In terms of design, the Samsung TU700D has a sleek, stylish and modern design. First off, the screen on this TV is surrounded by some of the thinnest bezels I've come across.
To give more detail, these bezels measure just 0.35 inches. In addition, they are made entirely of plastic and have an elegant matte black finish.
Unfortunately, due to the extreme thinness of these bezels, there was not enough room for Samsung to add their logo for brand credit. On the desirable side, just like the bezels, the overall build of the Samsung TU700D is very slim and minimalist.
Specifically, this TV measures 1386.8 x 60.9 x 843.2 mm (width x depth x height) and weighs 13879.9 g. Compared to the LG 55SK8000PVA, this Samsung TV is lighter and slimmer.
More specifically, the LG 55SK8000PVA weighs 17599.3g and measures 1237 x 248.4 x 794mm (width x depth x height). Other than that, the Samsung TU700D shouldn't bulk up when mounted on the wall due to its slim and minimalist build.
Speaking of which, here are four 200 x 200mm VESA-compliant holes on the back of the TV for wall mounting. However, if you don't want to mount this TV on the wall, it comes with a pair of V-shaped feet.
Like the frames, these feet are painted matte black and are made of plastic. However, the feet are flimsy and don't support the TV very well.
In fact, the Samsung TU700D wobbles when bumped lightly. On a positive note, the feet of these TVs have clips on the back that act as a cable management system.
As if that wasn't enough, there are rails on the TV's matte black plastic back panel, which double as a cable management system.
In short, aside from its flimsy feet, the design of the Samsung TU700D is nearly flawless with a slim, minimalist build. Also, the TV has two ways of cable management system: one at the back and the other at the back of the feet.
So I give the Samsung TU700D a score of nine out of ten in this design review section.
Samsung TU700D Display Features And Image Quality Review
In terms of display, the Samsung TU700D features a 55-inch LED display that offers 4K UHD (3840 x 2160) resolution. This means the screen has 3,840 pixels horizontally and 2,160 pixels vertically, which means sharper, more vibrant image quality.
Also, a 4K UHD resolution screen has about four times as many pixels as a FHD resolution screen. Therefore, the screen of the Samsung TU700D should offer much better image quality than an FHD screen.
Still, you would be interested to know that the screen on this TV has a remarkable contrast ratio. More specifically, the screen has a native contrast ratio of 5110:1.
In short, contrast ratio refers to the ratio of the darkest black to the brightest white a display can produce. Also, the contrast ratio is the most important factor that determines the black level of a screen.
Basically, a distinction ratio of 3000:1 or more means that the screen can reproduce deep blacks. Meanwhile, a contrast ratio of less than 3000:1 means that black looks more like gray on screen.
Apparently, the screen contrast ratio of the Samsung TU700D is well over 3000:1. So it should be able to reproduce deep blacks.
Therefore, movies with lots of dark/shady scenes like Pan's Labyrinth will be comfortable to watch on the Samsung TU700D. Due to its high contrast ratio, the TV is also suitable for viewing in dark rooms.
However, this TV does not support local dimming. Local dimming is an image enhancement technique that increases the black level and contrast ratio of a display by dimming backlight areas.
So if it had been the Samsung TU700D supporting local dimming, the blacks on its screen would have looked extremely dark. Since the TV screen already has a high contrast ratio, the lack of local dimming is not a big flaw.
One big flaw, however, is the display's poor viewing angles, which are due to the VA (vertical alignment) panel. So if you look at the Samsung TU700D off center, the colors and images on the screen will lose accuracy and look washed out.
Therefore, this Samsung TV is not suitable for large rooms. In adding to its poor viewing angles, this TV's screen also offers below-average peak brightness.
More specifically, the screen has a maximum brightness of 248 cd/m², which is extremely disappointing. Well, the low maximum brightness means the TV isn't ideal for use in bright rooms.