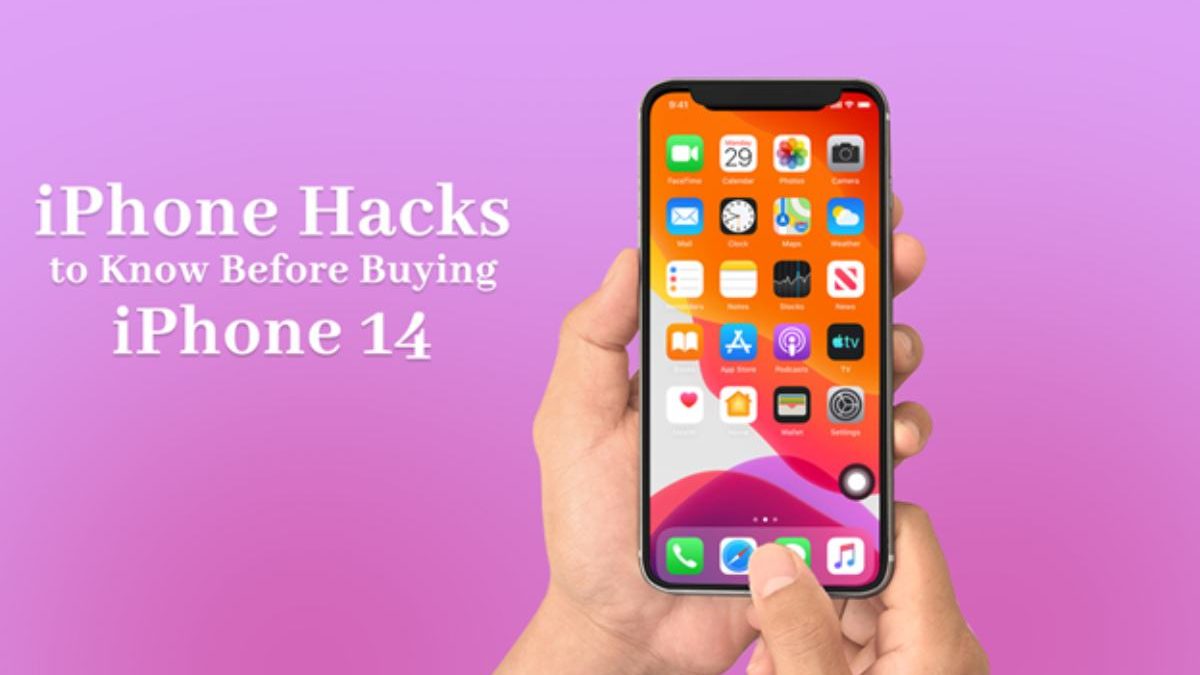 The wait is over! iPhone 14 is finally here, and of course, you cannot wait to get your hands on this new model. But unfortunately, you must not rush in. There are four handsets to choose from, which include iPhone 14, iPhone 14 Pro, iPhone 14 Pro Max and iPhone 14 Plus. So take your time and go through each feature and then make a decision.
In the meantime, while you wait, know these amazingly cool iPhone hacks you didn't know. If you already own an iPhone model, you can try out these hacks, and this might take you some more time before you jump into buying a newer model.
Tag Contacts to Notify Someone Specific in Group Messages
The easiest way to get someone's attention in a group chat is to tag them by typing the @ symbol and then their name. You can make the person's name bold by hitting the spacebar or adding a punctuation mark. The person you have mentioned will get a notification.
Turn off Find My iPhone
Find My iPhone is an excellent feature, and when it is turned on, it will show the GPS-based location of your phone or Mac. Thanks to this, you don't have to waste an entire day looking for your home.
However, there might be instances when it is better to turn off Find My iPhone. For example, disable it before selling your phone. If it is turned on by default, go to Settings > tap on your name > choose Find My > choose the Find My iPhone option and toggle it off > enter your Apple ID and password > confirm your choice of turning it off.
Sound Recognition
Sound recognition is a new feature, and iOS 14 users can use this for accessibility purposes. The feature is typically meant for users who need help listening to what's going on in their surroundings. By enabling this feature, your phone will listen to sounds like a barking dog, running water, doorbells, crying, etc. This feature helps in alerting users when something is happening around them.
When a sound is detected, the phone sends users a notification, which lets users know if something is wrong. However, your Hey Siri commands will cease functioning when this feature is enabled.
Back Taps
The back tap is more like a party trick and less of a feature. Using this shortcut, users can tap the back of their phone twice or thrice to perform specific functions. The back tap feature is part of iOS 14.
You can configure this feature to capture screenshots or launch the Control Center.
You can use this feature by going to the Settings option > Accessibility > Touch options > Back Tap > select your control for triple or double taps. The feature is pretty helpful in performing tasks and will save you time.
Add Captions to Videos and Photos
You can caption any video or photo taken by swiping up the video or picture. Then, tap the Add a Caption option and write the keyword or caption. Once you are finished, it will automatically save to iCloud Photos.
Later, you can find the images or videos by entering the keyword or caption into your phone's Search window.
Volume Button as The Camera Shutter
If you have updated your phone to iOS 14, you can open the camera application and hold down the volume up or down button to take a quick video. The video will stop recording as soon as you let go of the button. This is a useful feature if you need to record something immediately.
If you wonder how to use this feature, go to Settings > click Camera > enable Use Volume Up for Burst. These shortcuts will perform a different action depending on the shooting mode selected.
Charge Faster
If you need a quick top-up and want your phone to last longer, switch on the Airplane Mode as you charge. Doing this will temporarily pause all the background noise running in your phone, like GPS roaming and web-based notifications. If too many processes are running in the background, the battery will drain faster.
Personalize Notifications
You can make all your text notifications unique by choosing a person in your Contacts list and tapping Edit. From there, head to Vibrate and tap Create New Vibration to choose a custom vibration for specific individuals in your Contacts list.
The Bottom Line
So before you plan to get your hands on the new iPhone 14 or iPhone 14 Plus, it is prudent you learn these amazing hacks. These hacks will make you get the most out of your smartphone and streamline your tasks.
Also, don't stop exploring the different features when upgrading or getting a new phone. There is so much hiding in plain sight that you'll be surprised. Best of luck!