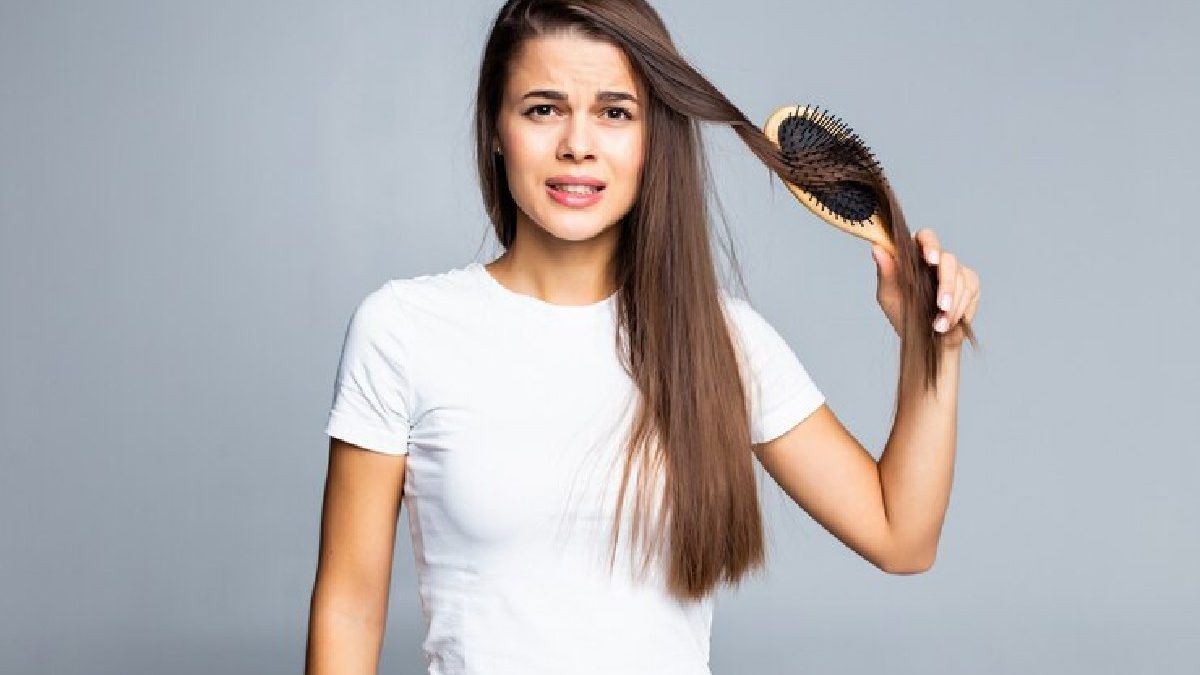 With the onset of winter, it's no surprise that there's a lot more hair loss than usual in the shower. Just as your skin's health is cyclical with the changing seasons, so is the hair loss you are likely to experience in winter. In winter, excessive hair loss is mainly due to dry outside air sucking all the moisture out of the scalp, drying it out. A dry scalp leads to dry hair, damage, breakage and hair loss. A dry scalp also leads to dandruff, making the head itchy and unhealthy. Combined with the dry air in winter, this can lead to severe hair loss.
Even those with the healthiest hair have their share of challenges this time of year. Si vous vous demandez ce que vous pouvez faire pour vous assurancer que vos cheveux ne tombent pas ou ne cassent pas pendant les mois les plus froids de l'année, lisez la suite pour découvrir ce que vous pouvez faire pour arreter la chute des cheveux in Winter !
To Effectively Reduce Winter Hair Fall, Follow These Five Tips:
1. Oil Massage
Nothing beats a good hair massage for your hair in winter. It helps growth blood flow to the scalp, which helps strengthen the hair follicles from the inside out.
Warm up 2-3 teaspoons of olive oil or almond oil and massage the scalp slowly to penetrate deep into the roots of the hair. You can also apply the oil throughout your hair for deep conditioning. Oil massages are not only incredibly relaxing, but they are also a great way to provide your hair and scalp with the necessary vitamins to counteract the winter winds. Massaging your hair with oil regularly is essential to maintain its strength and shine, improve circulation and ensure proper nutrition of your hair cuticle. In addition, keep an eye on your vitamin B levels because vitamin B12 promotes healthy hair growth.
To get rid of dandruff, take some oil, mix some camphor, and apply it to your scalp. Camphor acts as an antiseptic and helps reduce dryness on the scalp and prevent itching.
2. Find the Real Cause of Hair Loss
Simple daily habits can exacerbate winter hair loss from stress to nutritional deficiencies. See a hair specialist (trichologist) help keep your tresses shiny and healthy. In addition, your doctor may recommend specific health tests to understand your health numbers and blood parameters. A complete blood test can help your doctor rule out systemic conditions that could be causing your hair and scalp disease. Book a blood test now.
3. Eat Healthily and Stay Hydrated
An unhealthy diet coupled with a lack of vitamins, minerals, and other essential hair nutrients in your diet can lead to hair loss. Vitamin A stimulates healthy sebum production in the scalp, vitamin E stimulates blood flow to the scalp to keep hair follicles productive, and vitamin B helps maintain healthy hair. A poor diet coupled with nutrient deficiencies inhibits your body's ability to grow new hair follicles. Be sure to eat enough green foods and protein during cold weather. Eating lean meat, cottage cheese, fish, soy, or other proteins promotes hair growth and controls hair loss.
Plus, water is the magic potion we all need to keep us hydrated from the inside out during this dry winter. So drink plenty of water and keep your hair well moisturized. It prevents split ends and hair breakage and nourishes shiny and radiant hair.
4. Use the Right Hair Products For Your Hair Type
They use many hair products, including hair oils, shampoos, conditioners, and hair masks. Choosing the right hair product that meets your hair's needs is essential for preventing hair loss. For example, opt for products that deeply condition your hair if you have dry hair.
Moisturizing with conditioner is an essential step in hair care that is all too often skipped. Yet, it is the most crucial phase of winter. The conditioner works wonders on the outermost layer of your hair, the cuticle, to keep it looking healthy and shiny. By conditioning after every wash, you ensure that the cuticles are performing the protective shield function that they should be. When shopping, look for an acetyl alcohol conditioner as it is considered a good moisturizer.
Additionally, a profoundly conditioning hair mask is a great way to moisturize your hair and prevent it from becoming dry, dull and lifeless. Finally, homemade Winter Hair Care Natural hair packs give you shiny hair and can use once or twice a week.
Take a mashed banana and an egg and mix well into a paste to start at-home hair care. Next, add a few drops of lemon with a vitamin E capsule and mix well with a blender. Apply this paste from the roots to the ends of the hair and wait 30 minutes before washing with a mild shampoo.
You can even use natural aloe vera gel and add a few drops of lemon juice with a tablespoon of olive or coconut oil. Apply this mixture well from roots to ends of hair. Wait 30 minutes. Use a mild shampoo and cool (referred) or lukewarm water to rinse your hair.
5. Avoid Showering with Hot Water
Avoid taking long hot showers or washing your head with hot water. Too much heat can injury your hair. Instead, opt for warm water while taking a head bath.
Try to limit the use of curling irons or hair dryers. The less you use these hot styling tools, the better your hair will look. If you comb your hair too often, use a hair protectant spray before experimenting.